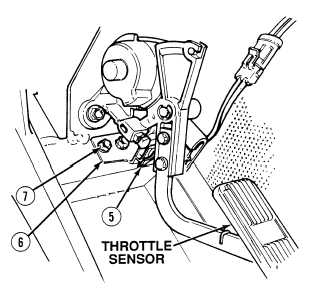 TM 9-2320-364-20-4
7-221
c.
Adjustment.
(1)
Adjust switch assembly (5) until contact is
made only when throttle sensor is in full
downward position.  Allow 1/4 in. to 3/8 in.
(6.35 mm to 9.53 mm) travel after throttle
sensor contacts switch.
(2)
Tighten two screws (7) on throttle switch
bracket (6).
d.
Follow-On  Maintenance:
·
Remove wheel chocks, (TM 9-2320-364-10).
END OF TASK