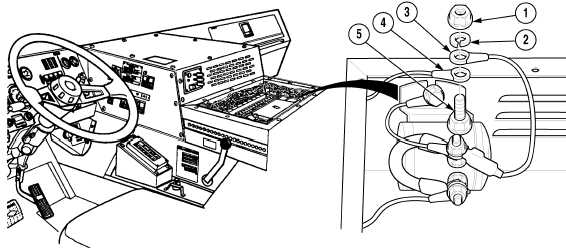 TM 9-2320-364-20-4
7-329
Materials/Parts
Tags, Identification (Item 88, Appendix C)
Lockwasher (2) (Item 194, Appendix F)
Lockwasher (2) (Item 196, Appendix F)
Screw, Self-Locking (2) (Item 309, Appendix F)
This task covers:
a.  Removal
b.   Installation
c.  Follow-On Maintenance
INITIAL SETUP
Equipment Condition
Engine OFF, (TM 9-2320-364-10)
Wheels chocked, (TM 9-2320-364-10)
Batteries disconnected, (Para 7-87)
Electronic Control Box (ECB) cover removed,
(Para 17-22)
Tools and Special Tools
Tool Kit, General Mechanic's:  Automotive
(Item 74, Appendix G)
Socket Set, 3/8 in. (Item 62, Appendix G)
Wrench, Torque, 3/8 in. Drive (0 to 60 N.m)
(Item 98, Appendix G)
7-93.  24V SIDE PANEL MAGNETIC SWITCH REPLACEMENT.
a.
Removal.
NOTE
Tag and mark wires prior to removal.
(1)
Remove nut (1), lockwasher (2), capacitor (3) and wire 1074 (4), from magnetic switch terminal (5).
Discard lockwasher.