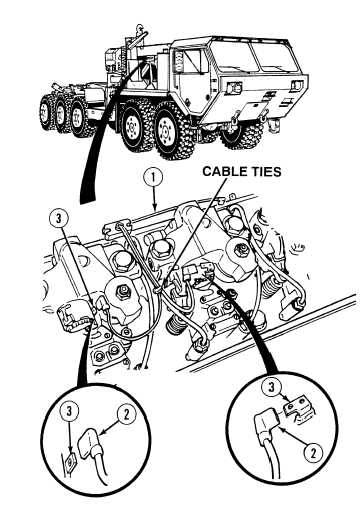 TM 9-2320-364-20-4
7-363
Material/Parts
Cable Ties (Item 25, Appendix C)
Tags, Identification (Item 88, Appendix C)
This task covers:
a.  Removal
b.   Installation
c.  Follow-On Maintenance
INITIAL SETUP
Equipment Condition
Engine OFF, (TM 9-2320-364-10)
Wheels chocked, (TM 9-2320-364-10)
Left or right rocker cover removed,
(Para 3-4 or Para 3-5)
Batteries disconnected, (Para 7-87)
Tools and Special Tools
Tool Kit, General Mechanic's:  Automotive
(Item 74, Appendix G)
7-102.  ENGINE BRAKE WIRE HARNESS REPLACEMENT.
a.
Removal.
Pull back protective sleeve on
positive lock connectors prior to
removing positive lock
connectors.  Do not pull on wires
of harness to remove positive
lock connectors.  Failure to
comply may result in damage to
solenoid and/or harness.
NOTE
·
Tag and mark harness prior to
removal.
·
Note location of and remove
cable ties as required.
·
There is one brake wiring
harness on each cylinder
head.  Both brake wiring
harnesses are removed the
same way.  Right side shown.
(1)
Disconnect positive lock connectors (2)
from engine brake solenoids (3).