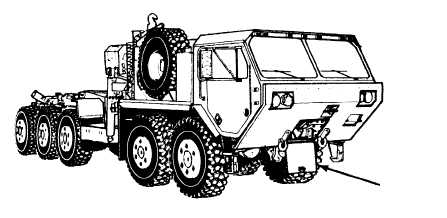 TM 9-2320-364-20-4
7-372     
Material/Parts
Oil, Hydraulic (Item 50, Appendix C)
Packing, Preformed (Item 258, Appendix F)
This task covers:
a.  Removal
b.   Installation
c.  Follow-On Maintenance
INITIAL SETUP
Equipment Condition
Engine OFF, (TM 9-2320-364-10)
Wheels chocked, (TM 9-2320-364-10)
Batteries disconnected, (Para 7-87)
Tools and Special Tools
Tool Kit, General Mechanic's:  Automotive
(Item 74, Appendix G)
7-105.  EMERGENCY STEERING SWITCH REPLACEMENT.
a.
Removal.
·
The truck steering operates with 3000 psi (20,685 kPa) hydraulic pressure. A high pressure
hydraulic oil stream can pierce a body and cause severe injury to personnel. Never
disconnect any high pressure hydraulic oil line or fitting without first dropping pressure to
zero.
·
Remove all jewelry such as rings, dog tags, bracelets, etc. If jewelry or tools contact
positive electrical circuits, a direct short may result. Damage to equipment, injury, or death
to personnel may occur.
(1)
Open front access cover.
FRONT
ACCESS
COVER