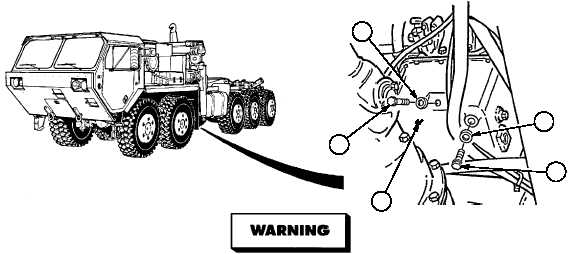 1
2
4
3
5
TM 9-2320-364-20-4
8-5
Tools and Special Tools
Tool Kit, General Mechanic's:  Automotive
(Item 74, Appendix G)
Pan, Drain (Item 46, Appendix G)
Wrench Set, Socket 3/8 in. Drive
(Item 93, Appendix G)
Wrench Torque (0-60 N.m)
(Item 98, Appendix G)
This task covers:
a.  Drain
b.   Fill
c.  Follow-On Maintenance
INITIAL SETUP
Equipment Condition
Engine OFF, (TM 9-2320-364-10)
Wheels chocked, (TM 9-2320-364-10)
8-3.  TRANSMISSION OIL SERVICE.
Materials/Parts
Lubricating Oil (Item 50, Appendix C)
Gasket (Item 49, Appendix F)
a.
Drain.
Transmission oil will be extremely hot when drained.  Do not come in contact with hot oil
to avoid severe burns.  If burned with hot oil, seek medical attention immediately.
NOTE
·
Transmission should be between 160 to 200 degrees F (71 to 93 degrees C) at time when
oil is drained.  Transmission will not drain completely if not at proper temperature.  Read
transmission temperature gage in cab to check temperature.
·
Truck should be serviced on level surface to ensure oil level can be checked correctly and
that all oil possible is drained.
·
Transmission capacity is 39.5 qts (37.4 l).
·
Center drain plug and gasket should not be removed if oil pan is equipped with a corner
drain plug and gasket.
(1)
Position drain pan under work area.
(2)
Remove drain plug (1) and gasket (2) or drain plug (3) and gasket (4) from oil pan (5).  Discard gasket.
b.
Fill

.
(1)
Install drain plug (3) and gasket (4) or drain plug (1) with gasket (2) in oil pan (5). Tighten plug to 180 to
240 lb-in (20 to 27 N.m).