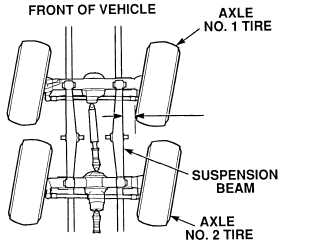 TM 9-2320-364-20-4
11-24     
11-10.  STEERING STOP BOLT REPLACEMENT/ADJUSTMENT (CONT).
c.
Adjustment.
Stand clear of tires while turning
them.  Failure to do so may
result in injury or death to
personnel

.
NOTE
Left side and right side axle
stops are adjusted the same way.
Right side shown for Axles 1
and 2.  Left side shown for
Axle 5.
(1)
With the aid of an assistant, start truck and
turn steering wheel to the right until the rear
side of the right front tire is 2-1/2 in. (6 cm)
away from the suspension beam.
NOTE
Axle steering stop arrangement
for Axles No. 1, 2 and 5 are
similar.
(a)
If 2-1/2 in. (6 cm) cannot be attained
notify Direct Support Maintenance.
(b)
If 2-1/2 in. (6 cm) can be attained, go
to Step (2).
2–1/2 IN. (6 CM)
CLEARANCE
BETWEEN REAR
SIDE OF TIRE AND
SUSPENSION BEAM