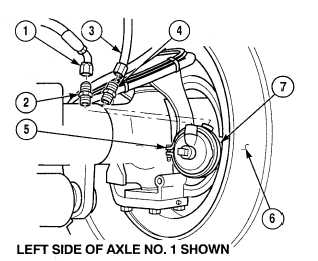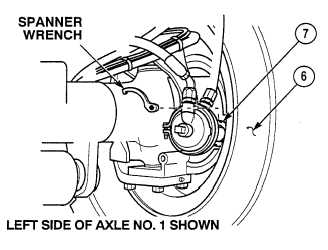 TM 9-2320-364-20-4
12-33
Air chamber can only be turned
out a maximum of one turn.
Failure to comply may result in
damage to equipment.
(f)
Rotate air chamber (5) to align air
ports.
Adhesives, solvents, and sealing
compounds can burn easily, can
give off harmful vapors, and are
harmful to skin and clothing.  To
avoid injury or death, keep away
from open fire and use in well-
ventilated area.  If adhesive,
solvent, or sealing compound gets
on skin or clothing, wash
immediately with soap and water.
(g)
Coat threads of two fittings (2) and (4)
with sealing compound.
(h)
Install fittings (2) and (4) in air chamber (5).
NOTE
Refer to Table 12-1 for air line numbers.
(i)
Install air line (3) on fitting (4).
(j)
Install air line (1) on fitting (2).
(k)
Start truck and build air pressure to 125 psi (861 kPa).
(l)
Turn OFF engine switch.
(m)    Release parking brake.
(n)
With the aid of an assistant, apply service brake pedal and using spanner wrench tighten collet nut (7)
to 250 to 280 lb-ft (339 to 380 N.m).
(o)
Release brake pedal.
(p)
Push in on brake drum (6) approximately two inches to reinstall brake drum (6).