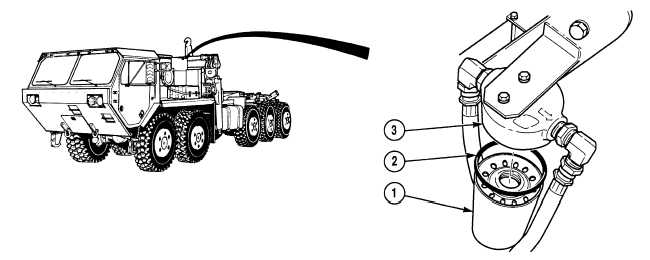 TM 9-2320-364-20-5
14-56     
Materials/Parts
Oil, Hydraulic (Item 50, Appendix C)
This task covers:
a.  Removal
b.   Installation
c.  Follow-On Maintenance
INITIAL SETUP
Equipment Condition
Engine OFF, (TM 9-2320-364-10)
Wheels chocked, (TM 9-2320-364-10)
Tools and Special Tools
Tool Kit, General Mechanic's:  Automotive
(Item 74, Appendix G)
Pan, Drain (Item 47, Appendix G)
Removal Tool, Oil Filter (Item 54, Appendix G)
14-16.  STEERING FILTER REPLACEMENT.
a.
Prolonged contact with lubricating oil (MIL-L-2104) may cause a skin rash.  Skin and clothing
that come in contact with lubricating oil should be thoroughly washed immediately.  Saturated
clothing should be removed immediately.  Areas in which lubricating oil is used should be well
ventilated to keep fumes to a minimum.
(1)
Position drain pan under filter (1).
NOTE
·
Preformed packing may stay on filter or housing.
·
Filter is removed by turning counter-clockwise.
(2)
Remove filter (1) and preformed packing (2) from housing (3).  Discard preformed packing and filter.