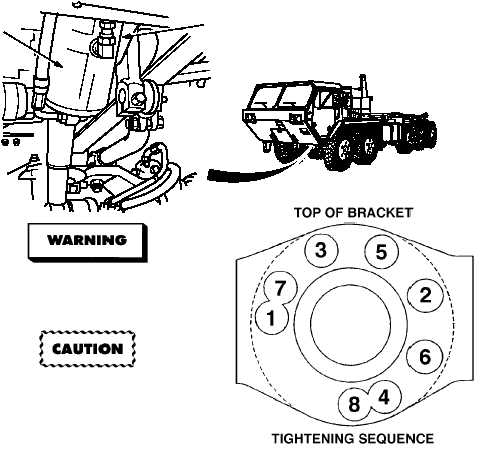 TM 9-2320-364-20-5
14-61
This task covers:
a.  Torquing Procedure
b.   Follow-On Maintenance
INITIAL SETUP
Personnel Required
Two
Equipment Condition
Engine OFF, (TM 9-2320-364-10)
Wheels chocked, (TM 9-2320-364-10)
Tools and Special Tools
Tool Kit, General Mechanic's:  Automotive
(Item 74, Appendix G)
Wrench, Torque (0 to 175 lb-ft [0 to 237 N.m])
(Item 95, Appendix G)
14-18.  FRONT STEERING GEAR TORQUING PROCEDURE.
a.
Torquing Procedure.
Stand clear of tires while turning.
Failure to do so may result in
injury or death to personnel.
Do not overtighten front steering
gear mounting screws.  Failure to
comply may result in damage to
equipment.
NOTE
·
Screws are referred to by the number that is listed in tightening sequence.
·
Tightening sequence shown is facing mounting bracket side of front steering gear.
(1)
With the aid of an assistant, Start engine (TM 9-2320-364-10) and turn the steering wheel until tires are in
a straight forward position.
(2)
Shut OFF engine.
FRONT
STEERING
GEAR
FRONT STEERING GEAR
MOUNTING BRACKET