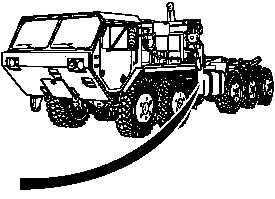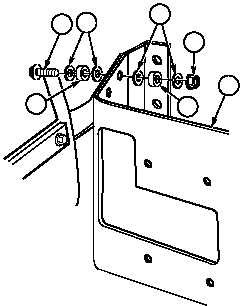 TM 9-2320-364-20-5
15-17
Materials/Parts
Locknuts (Item 93, Appendix F)
Locknuts (Item 133, Appendix F)
This task covers:
a.  Removal
b.   Installation
c.  Follow-On Maintenance
INITIAL SETUP
Personnel Required
Two
Equipment Condition
Engine OFF, (TM 9-2320-364-10)
Wheels chocked, (TM 9-2320-364-10)
Air dryer guard removed (if equipped), (Para 12-19)
Air dryers and aftercooler removed, (Para 12-20)
Fuel/water separator and bracket removed, (Para 4-16)
Air dryer reservoir removed, (Para 12-35)
Coalescing filter assembly removed, (Para 12-23)
Tools and Special Tools
Tool Kit, General Mechanic's:  Automotive
(Item 74, Appendix G)
15-7.  AIR DRYER BRACKET REPLACEMENT.
a.
Removal.
(1)
Remove two locknuts (1), eight washers (2), four biscuits (3), and two screws (4) from air dryer mounting
bracket (5).  Discard locknuts.
3
2
2
3
1
5
4