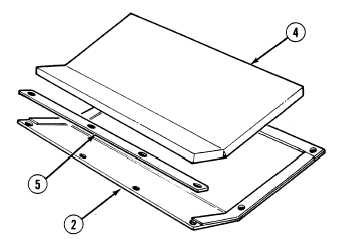 TM 9-2320-364-20-5
17-64     
Materials/Parts
Adhesive, Insulation (Item 12, Appendix C)
Insulation (Item 80, Appendix F)
Seal (Item 328, Appendix F)
This task covers:
a.  Removal
b.   Installation
c.  Follow-On Maintenance
INITIAL SETUP
Equipment Condition
Engine OFF, (TM 9-2320-364-10)
Wheels chocked, (TM 9-2320-364-10)
Tools and Special Tools
Tool Kit, General Mechanic's:  Automotive
(Item 74, Appendix G)
17-21.  ELECTRONIC CONTROL BOX (ECB) RIGHT SIDE PANEL REPLACEMENT.
a.
Removal.
(1)
Remove 10 screws (1) and electronic control box panel (2) from cab (3).
(2)
Remove and discard insulation (4) and
seal (5) from electronic control box
panel (2).