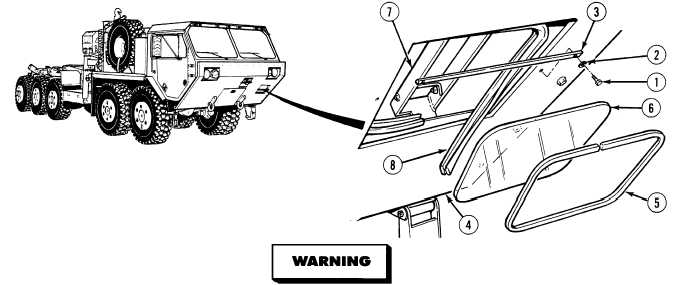 TM 9-2320-364-20-5
17-88
Materials/Parts
Adhesive (Item 15, Appendix C)
Primer (Item 64, Appendix C)
Solution, Soap (Item 86, Appendix C)
This task covers:
a.  Removal
b.   Installation
c.  Follow-On Maintenance
INITIAL SETUP
Materials/Parts - Continued
Channel, Rubber (40 in.) (Item 10, Appendix F)
Lockwasher (2) (Item 171, Appendix F)
Equipment Condition
Engine OFF, (TM 9-2320-364-10)
Wheels chocked, (TM 9-2320-364-10)
Tools and Special Tools
Tool Kit, General Mechanic's:  Automotive
(Item 74, Appendix G)
17-31.  PEEP WINDOW REPLACEMENT.
a.
Removal.
Always wear proper eye protection and protective clothing when handling glass.  Failure to
comply may result in injury to personnel.
(1)
Remove two screws (1), lockwashers (2) and bar (3) from skid plate (4).  Discard lockwashers.
(2)
Remove windshield seal locking strip (5) from peep window (6).
NOTE
Ensure to reach around cab to support peep window when pushing peep window out through
cab.  Failure to comply may result in damage to parts.
(3)
Push peep window (6) out from inside of cab (7).
NOTE
Perform Step (4) if rubber channel is damaged.
(4)
Remove and discard rubber channel (8) from cab (7).