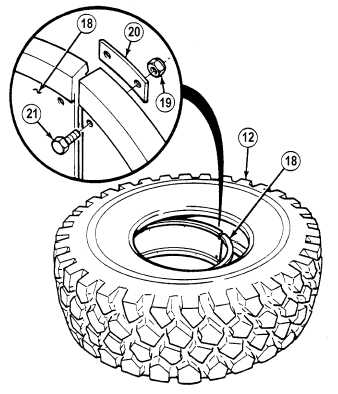 TM 9-2320-364-20-5
13-6     
13-2.  WHEEL/TIRE ASSEMBLY REPAIR (CONT).
NOTE
Mallet and tire lubricant may be
used to ease movement of bead
lock.
(20)
Move bead lock (18) until locknuts (19) are
visible.
NOTE
Positioning tire against a
stationary object may ease in
removal of bead lock.
(21)
Attach lifting device to tire (12) and
position tire upright at a slight angle.
(22)
Remove lifting device from tire (12).
(23)
Remove four locknuts (19), two plates (20)
and screws (21) from bead lock (18).
Discard locknuts.
(24)
Remove one end of bead lock (18) from
tire (12).
(25)
Remove the remaining section of bead lock (18) from tire (12) by "cork screwing" bead lock from tire
(12).
b.
Cleaning/Inspection.
(1)
Inspect tire tread for nails, glass and other injurious particles in tread.
(2)
Inspect tire for irregular wear, cuts and blisters appearing on tire.
(3)
Inspect bead of tire for damaged rim seal ridges.