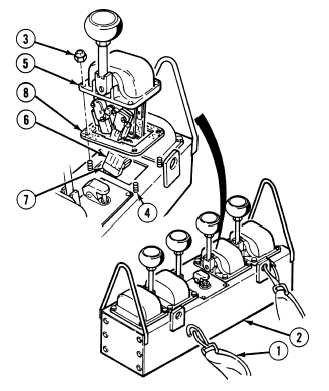 TM 9-2320-364-20-5
18-19
Adhesives, solvents, and sealing
compounds can burn easily, can
give off harmful vapors, and are
harmful to skin and clothing.  To
avoid injury or death, keep away
from open fire and use in well-
ventilated area.  If adhesive,
solvent, or sealing compound
gets on skin or clothing, wash
immediately with soap and
water.
(22)
Coat both sides of gasket (8) with adhesive
and install gasket on swing controller (5).
(23)
Connect swing controller connector (6) to
connector (7).
(24)
Install swing controller (5) on studs (4) and
box (2) with four locknuts (3).
NOTE
The inner two valve assemblies
must be installed before the outer
two valve assemblies.
(25)
Repeat steps (17) through (24) for telescope
controller, hoist controller and boom
controller in that order.
(26)
Install shoulder strap (1) on box (2).
d.
Follow-On Maintenance:
·
Operate crane to test remote control operation, (TM 9-2320-364-10).
·
Stow remote control box, (TM 9-2320-364-10).
END OF TASK