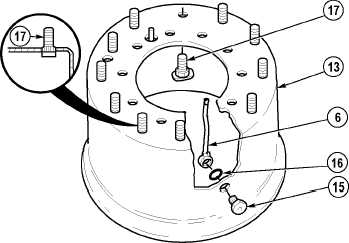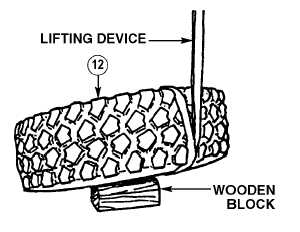 TM 9-2320-364-20-5
13-9
(5)
Attach lifting device to tire (12) and lay tire
on wooden block.
(6)
Remove lifting device from tire (12).
If wheel studs were replaced, they
must be torqued after 50 to 75
miles (80 to 120 km) of use.
Failure to comply may result in
failure of wheel studs.
NOTE
·
If damaged studs were
removed, perform Step (7).
·
Ensure flat edge of stud head
is positioned parallel to edge
of inner wheel.
(7)
Install new stud (17) in inner wheel (13)
until base of stud is solid against back side
rim.
Adhesives, solvents, and sealing compounds can burn easily, can give off harmful vapors, and
are harmful to skin and clothing.  To avoid injury or death, keep away from open fire and use
in well-ventilated area.  If adhesive, solvent, or sealing compound gets on skin or clothing,
wash immediately with soap and water.
(8)
Coat threads of two nuts (15) with sealing compound.
(9)
Install two grommets (16) and valve stems (6) in inner wheel (13) with two nuts (15).