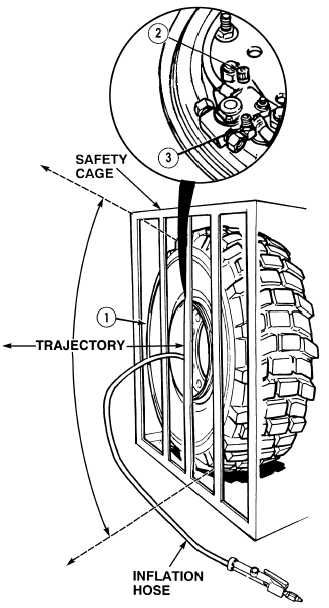 TM 9-2320-364-20-5
13-13
·
Stay out of the trajectory as indicated by the area shown.  Under some circumstances, the
trajectory may deviate from its expected path.  Injury or death to personnel may result.
·
Never inflate the wheel/tire assembly unless all ten outer wheel nuts have been properly
torqued or personal injury could result.
NOTE
Refer to TM 9-2610-200-14 for construction of safety cage.
(24)
Inflate tire (1) to 75 psi (517 kPa) and check for leaks (TM 9-2320-364-10).
(25)
Install valve cap (2) on valve stem (3).
(26)
Remove wheel/tire assembly (1) from safety
d.
Follow-On Maintenance:
·
Install tire on truck, (TM 9-2320-364-10).
END OF TASK