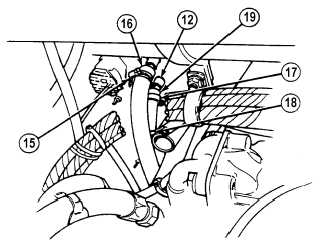 TM 9-2320-364-20-5
19-35
·
Do not remove heater hoses when engine is hot; steam and hot coolant can escape and
burn personnel.
·
Use clean wiping rags or like material to remove heater hoses.  Avoid using gloves.  If hot
water soaks through gloves, personnel could be burned.
·
Coolant is slippery and can cause falls and injury.  Clean up spilled coolant immediately.
(12)    Loosen hose clamp (17) and disconnect
heater hose (18) from heater assembly (12).
(13)    Loosen two hose clamps (19) and (20) and
disconnect hose (21) from heater
assembly (12).
As hoses are removed plug or
tape all hoses and tubes to keep
out foreign matter.  Failure to
comply may cause equipment
damage.
(14)    Cover openings in two heater hoses (18) and
heater assembly (12) with masking tape.
NOTE
Remaining steps are performed inside cab.
(15)
Remove clip (22) and defroster cable (23) from defroster lever rod (24).  Discard clip.
(16)
Remove six screws (25) and lockwashers (26) from heater assembly (12) and heater bracket (27).  Discard
lockwashers.