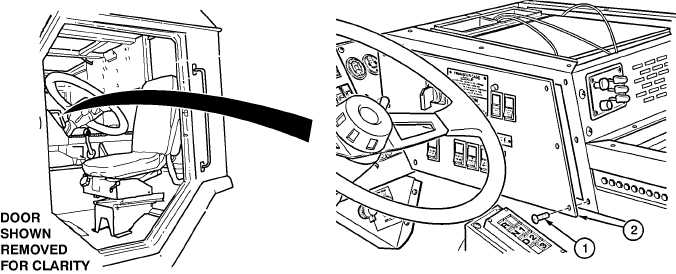 TM 9-2320-364-20-5
19-54     
Materials/Parts
Solution, Soap (Item 86, Appendix C)
Tags, Identification (Item 88, Appendix C)
Locknut (2) (Item 106, Appendix F)
Nut, Push On (2) (Item 217, Appendix F)
Screw Washer Assembly (3) (Item 308, Appendix F)
This task covers:
a.  Removal
c.   Cleaning/Inspection
e.  Installation
b.  Disassembly
d.   Assembly
f.   Follow-On Maintenance
INITIAL SETUP
Equipment Condition
Engine OFF, (TM 9-2320-364-10)
Wheels chocked, (TM 9-2320-364-10)
Batteries disconnected, (Para 7-87)
Heater compartment access panel removed,
(Para 17-4)
Electrical Control Box (ECB) right side panel
removed, (Para 17-21)
Tools and Special Tools
Tool Kit, General Mechanic's:  Automotive
(Item 74, Appendix G)
19-17.  HEATER CONTROL PANEL REPAIR.
a.
Removal.
Use care not to pull wiring away from switches when removing switch panel.  Damage to
equipment may occur.
NOTE
Tag and mark wires prior to removal.
(1)
Remove six screws (1) and lay switch panel (2) to side.