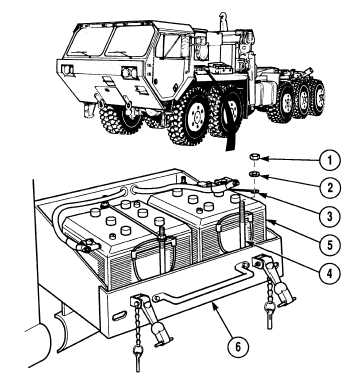 TM 9-2320-364-20-5
21-6     
Materials/Parts
Coating Compound, Bituminous Solvent Type
(Item 32, Appendix C)
Locknut (4) (Item 114, Appendix F)
This task covers:
a.  Removal
b.   Installation
c.  Follow-On Maintenance
INITIAL SETUP
Personnel Required
Two
Equipment Condition
Engine OFF, (TM 9-2320-364-10)
Wheels chocked, (TM 9-2320-364-10)
Batteries disconnected, (Para 7-87)
Arctic kit batteries disconnected (if equipped),
(Para 21-11)
Tools and Special Tools
Tool Kit, General Mechanic's:  Automotive
(Item 74, Appendix G)
Gloves, Chemical Oil Protective
(Item 28, Appendix G)
Goggles, Industrial (Item 30, Appendix G)
21-4.  ARCTIC KIT BATTERY REPLACEMENT.
a.
Removal.
·
Battery acid (electrolyte) is extremely harmful.  Always wear safety goggles and rubber
gloves, and do not smoke when performing maintenance on batteries.  Injury will result if
acid contacts skin or eyes.  Wear rubber apron to prevent clothing being damaged

.
·
Remove all jewelry such as rings, dog tags, bracelets, etc.  If jewelry or tools contact
positive electrical circuits a direct short may result.  Damage to equipment, injury or death
to personnel may occur.
NOTE
Both batteries are removed the
same

way.
(1)
Remove four locknuts (1), washers (2) two
hold down straps (3) and four carrier
screws (4) from batteries (5) and battery
box (6).  Discard locknuts.
Battery weighs 75 lbs (34 kg).
Remove battery only with the aid
of an assistant to prevent possible
injury to personnel.
(2)
With the aid of an assistant, remove two
batteries (5) from battery box (6).