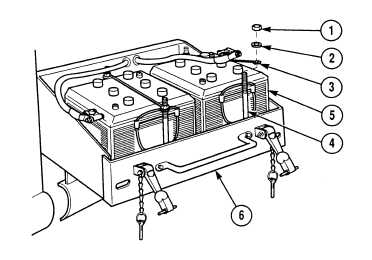 TM 9-2320-364-20-5
21-7
b.
Installation.
Battery weighs 75 lbs (34 kg).
Install battery only with the aid of
an assistant to prevent possible
injury to personnel.
NOTE
Refer to TM 9-6140-200-14 for
more specific details on battery
maintenance.
(1)
With the aid of an assistant, position two
batteries (5) in battery box (6).
(2)
Install two hold down straps (3) and four
carrier screws (4) with two washers (2) and
locknuts (1) in battery box (6).
Corrosion inhibitor contains alkali.  Do not get in eyes; wear goggles/safety glasses when
using.  Avoid contact with skin.  In case of contact, immediately wash area with soap and
water.  If eyes are contacted, flush eyes with large amounts of water for at least 15 minutes
and get immediate medical attention.
(3)
Coat threads of four carrier screws (4), washers (2), and lock nuts (1) with bituminous.
c.
Follow-On Maintenance:
·
Connect batteries, (Para 7-87).
·
Remove wheel chocks, (TM 9-2320-364-10).
END OF TASK