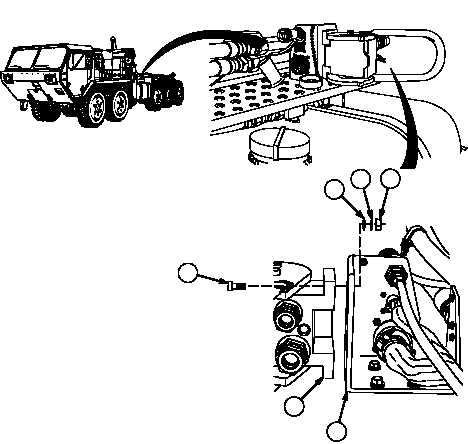 TM 9-2320-364-20-5
21-43
This task covers:
a.  Removal
b.   Installation
c.  Follow-On Maintenance
INITIAL SETUP
Equipment Condition
Engine OFF, (TM 9-2320-364-10)
Wheels chocked, (TM 9-2320-364-10)
Batteries disconnected, (Para 7-87)
Hydraulic reservoir drained, (Para 20-11)
Interface hydraulic hoses and tubes
removed, (Para 20-3)
Tools and Special Tools
Tool Kit, General Mechanic's:  Automotive
(

Item 74, Appendix G)
21-12.  INTERFACE QUICK DISCONNECT ASSEMBLY REPLACEMENT.
Materials/Parts
Lockwasher (4) (Item 172, Appendix F)
a.
Removal.
(1)
Remove four nuts (1), lockwashers (2),
washers (3), screws (4) and quick disconnect
assembly (5) from mounting bracket (6).
Discard lockwashers.
2
3
4
5
6
1