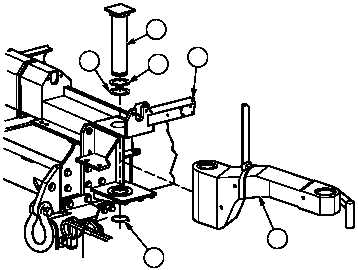 TM 9-2320-364-20-5
21-145
a.
Removal.
Arm assembly weighs 240 lbs
(109 kg).  Attach suitable lifting
device to prevent possible injury
to personnel.
NOTE
There are two arm assemblies.
Both are removed the same way.
Right side is shown.
(1)
Attach lifting device to arm assembly (1).
Use care when removing snap
and retaining rings.  Snap and
retaining rings are under spring
tension and can act as projectiles
when released and could cause
severe eye injury.
NOTE
Note quantity of shims prior to
removal.
(2)
Remove retaining ring (2), pivot pin (3) and
shim(s) (4) from rear roller bracket (5) and
arm assembly (1).
(3)
With the aid of an assistant, remove arm
assembly (1) from rear roller bracket (5).
(4)
Position arm assembly (1) on clean work
surface and remove lifting device.
4
2
5
3
1
4