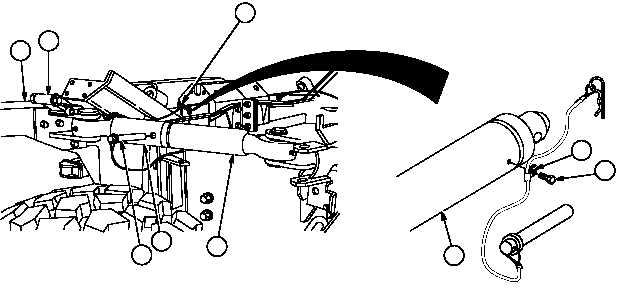 TM 9-2320-364-20-5
21-167
Adhesives, solvents, and sealing compounds can burn easily, can give off harmful vapors,
and are harmful to skin and clothing. To avoid injury or death, keep away from open fire and
use in well-ventilated area. If adhesive, solvent, or sealing compound gets on skin or
clothing, wash immediately with soap and water.
NOTE
Ensure hole in pin end align with hole for cushion clip.
(9)
Apply sealing compound (loctite 242) to threads of screw (8).
(10)
Install screw (8) and cushion clip (9) to long strut (2).
(11)
Align long strut (2) with short strut (5).
(12)
Using handle of arm assembly (6), rotate arm assembly and disengage flip lock (7).
(13)
Position long strut (2) in short strut (5) and install pin (4) and quick release pin (3).
(14)
Repeat Steps (4) through (13) for left side.
(15)
Repeat Steps (2) through (14) as necessary.
g.
Follow-On Maintenance:
·
Install hardlift strut, (Para 15-6).
·
Remove wheel chocks, (TM 9-2320-364-10).
END OF TASK
5
2
3
4
9
8
2
6
7