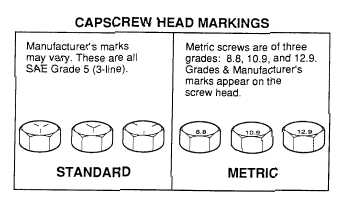 SOC HEAD/12 PT.
SOC FLAT HEAD
TM 9-2320-364-20-5
E-2     
E-3.  HOW TO USE TORQUE TABLE (CONT).
(2)
Measure out one inch with a ruler and count
the number of threads per inch.
(3)
Under the heading SIZE, look down the left
hand column until you find the diameter of
the screw you are installing (there will
usually be two lines beginning with the
same size).
(4)
In the second column under SIZE, find the
number of threads per inch that matches the
number of threads per inch  you counted in
Step 2.  (Not required for metric screws).
(5)
To find the grade screw you are installing,
match the markings on the head to the
correct picture of CAPSCREW HEAD
MARKINGS on the torque table.
(6)
Look down the column under the picture
you found in Step 5. until you find the
torque limit (lb-ft or N.m) for the diameter
and threads per inch of the screw you are
installing.
(7)
Use wet torque values.
Table E-1.  Torque Limits For Wet Flange Nuts
SPIRALOCK FLANGE
DIAMETER
THREADS
TORQUE
NUT MARKINGS
PER INCH
GRADE 8
IN.
MM
LB-FT
N.m
1/4
6.35
20
15
20
5/16
7.94
18
25
34
3/8
9.65
16
45
61
1/2
12.70
13
110
149
5/8
15.87
11
210
285
3/4
19.05
10
375
508
Table E-2.  Torque Limits For Wet Socket Head Cap Screws
TORQUE IN FT. LBS. (CAP SCREWS) LUBED
SIZE
SOC HD OR 12 PT
SOC FLAT HD
.10-24
5
2.5
.25-20
12
6
.31-18
25
12
.38-16
44
22
.50-13
70
36
.56-12
106
53
.62-11
212
106
.75-10
375
187
1.00-8
781