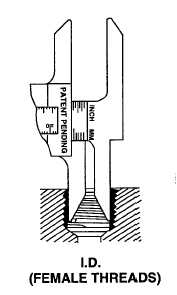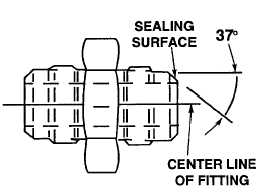 TM 9-2320-364-20-5
E-3
b.
Hoses and Fittings.
NOTE
Most fluid piping system sizes are
measured by dash numbers.  These
are universally used abbreviations
for the size of the component
expressed as the numerator of the
fraction with the denominator
always being 16.  For example, a
-04 port is 4/16 or 1/4-inch.  Dash
numbers are usually nominal (in
name only) and are abbreviations
that make ordering of components
easier.
(1)
Measure the I.D./O.D. diameter with a
caliper as shown.
(2)
Under the heading MALE THREAD O.D.
and FEMALE THREAD I.D., match the
measurements with the row in table to
determine proper torque.
(3)
To find the sealing surface angle, use a
protractor and measure the sealing surface
parallel to the center line of the fitting.