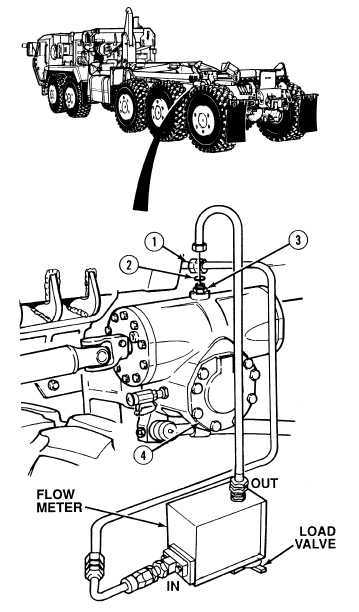 TM 9-2320-364-34-2
12-6     
12-2.  STEERING SYSTEM HYDRAULIC ADJUSTMENT (CONT).
b.
Steering Sequence Valve and Pressure Relief Valve 12B Adjustment.
The steering hydraulic system operates at oil pressures up to 3,000 psi (20,685 kPa).  Never
disconnect any hydraulic line or fitting without first dropping pressure to zero.  Failure to
comply may result in serious injury or death to personnel.
If steering system hydraulic adjustments are not performed in the correct sequence serious
damage to equipment will occur.  Perform steering system hydraulic adjustment in the
following sequence.
NOTE
Position drain pan under hoses.
(1)
Disconnect hose 2275 (1) and remove
preformed packing (2) from fitting (3) on
rear steering gear (4).  Discard preformed
packing.
(2)
Apply hydraulic oil to preformed
packing (2).
(3)
Position preformed packing (2) on
fitting (3).
(4)
Install a flow meter in line between
hose 2275 (1) and  fitting (3) on rear
steering gear (4).
(5)
Fully open load valve on flow meter.
(6)
Start engine.
Do not allow load valve to remain
closed for more than 10 seconds.
Damage to equipment could occur.
(7)
Slowly close load valve on meter.
(a)
If 2,000 to 2,025 psi (13,790 to
13,962 kPa) are not present when
valve is fully closed, go to Step (8).
(b)
If 2,000 to 2,025 psi (13,790 to 13,962
are present, pressure relief valve 12B is
adjusted correctly.  Go to Step (16).
(8)
Shut OFF engine.