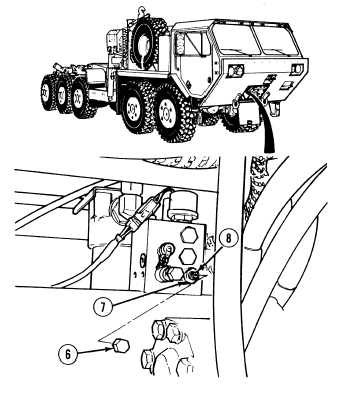 TM 9-2320-364-34-2
12-11
(10)
Remove pressure relief valve 12A cover (6).
NOTE
Turning pressure relief valve set
screw to the right will increase
pump output pressure and turning
to the left will decrease pump
output pressure.  Each full turn
will change the output pressure
about 400 psi (2,758 kPa).
(11)
Loosen nut (7) and adjust pressure with set
screw (8).
(12)
Tighten nut (7) on set screw (8).
(13)
Start engine.
(14)
Verify pressure and make necessary
adjustments.  Refer to Steps (6)
through (13).
(15)
Repeat Steps (6) through (13) until 2,000 psi
(13,790 kPa) present when load valve is fully
closed.
(16)
Shut OFF engine.
(17)
Install relief valve cover (6).
NOTE
Do not remove flow meter at this
time.
(18)
Go to Step

d.