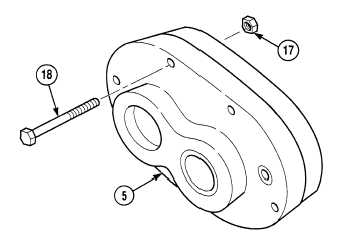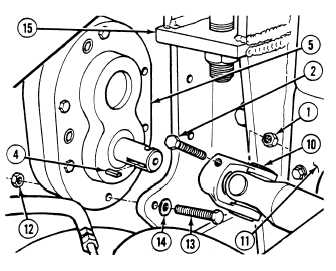 TM 9-2320-364-34-2
12-36     
12-6.  2.21:1 GEAR REDUCER AND INTER-STEERING SHAFT REPLACEMENT (CONT).
Steering gear reducer must be installed with output shaft facing to the rear of the truck.
Failure to comply may result in damage to equipment.
NOTE
·
Output shaft turns one revolution for every 2.21 revolutions of input shaft.
·
Output haft housing side has three pipe plugs.  Input Shaft housing side has one pipe plug.
·
Remove two screws from frame side and one screw from bottom side of gear reducer.
·
If installing a new gear reducer, perform Step (2).
(2)
Remove three nuts (17) and screws (18)
from new gear reducer (5) and install in old
gear reducer (5).
(3)
Install gear reducer (5) on frame (15)
with three washers (14), screws (13) and
locknuts (12).
(4)
Position key (4) in gear reducer (5).
NOTE
Align key on gear reducer with
slot in steering shaft yoke.
(5)
Position steering shaft (10) on truck (11)
and gear reducer (5).
(6)
Install screw (2) and locknut (1) in steering
shaft (10).