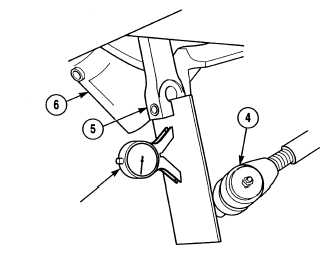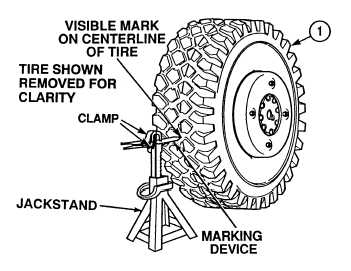 TM 9-2320-364-34-2
12-49
NOTE
Pitman arm angles must be
measured relative to frame.
(7)
Position a 3/16 by 2-1/2 by 8 in. flat steel
plate between the end of No. 1 pitman
arm (5) on front steering gear (6) and tap
place with hammer.
(8)
Position magnetic protractor on steel plate
and adjust the angle of pitman arm (5) so
that the pitman arm is pitched rearward
three degrees

±

0.5 degrees.  Remove
magnetic protractor and plate.
(9)
Repeat Steps (7) and (8) for the other two
steering gears so that their pitman arms are
pitched forward seven degrees

±

0.5 degrees.
(10)
Remove chock blocks from front
tandem axle.
d.
Axle No. 1, 2 and 5 Wheel Alignment.
(1)
Chock wheels on Axle No. 3.
(2)
Jack up Axles No. 1, 2 and 5 and position
jackstands under each side of suspension
beams.
NOTE
·
A sharpened piece of steel stock
will be used as a marking device
and a jackstand will make the
marking device stationary.  Use
a clamp to hold steel stock to
jackstand.  The marking device
must be able to make a visible
mark on the tire.
·
A visible mark must be made as
close to the centerline of the
tire as possible.
(3)
With the aid of an assistant, spin tire (1)
while holding steel stock in place at
centerline of tire.  Continue turning tire
until a visible mark is made around entire
diameter of tire.
(4)
Repeat Step (3) for right tire.
MAGNETIC
PROTRACTOR