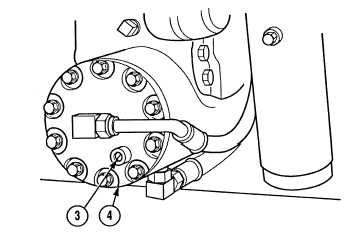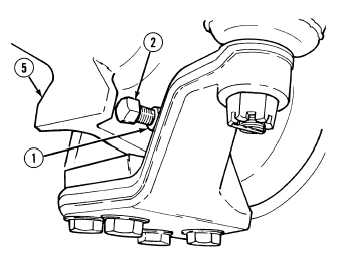 TM 9-2320-364-34-2
12-53
The steering hydraulic system
operates at pressures up to
3,000 psi (20,685 kPa).  Do not
turn relief plunger out more
than flush with end of steering
gear cover.  Plunger could blow
out and spray hydraulic oil,
causing serious injury to
personnel.
NOTE
When relief plunger is adjusted
it will be necessary to turn the
tires straight forward, then
return the tires to the original
position.
(4)
If measurement still cannot be attained,
adjust bottom relief plunger (3) on front
steering gear (4) out until 2 1/2 in.
(63.5 mm) can be attained.
(5)
Adjust steering stop bolt (2) and nut (1) on
right side of Axles No. 1 and 2 until stop
bolt touches the hub assembly (5).