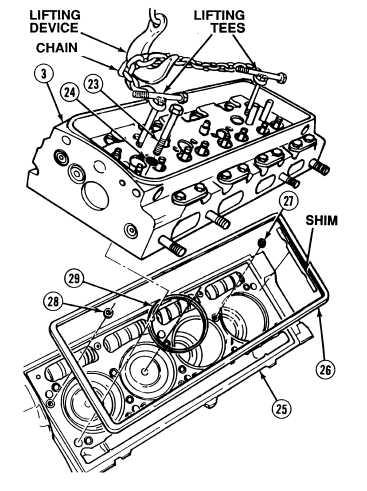 TM 9-2320-364-34-2
3-73
NOTE
Seal strip gasket is installed with
color coded side facing outward.
(31)
Install seal strip gasket (26), 16 water
seals (27), oil seal (28) and four compression
gaskets (29) on engine block (25).
NOTE
Shims are installed in same
position and location as noted
during removal.
(32)
Remove paper covering from back of two
support shims and install glued side down on
engine block (25).
Ensure cam pockets are clear of
all dirt and debris.  Failure to
comply may result in damage to
equipment.
(33)
Install lifting tees and chain on cylinder
head (3).
Adhesives, solvents, and sealing
compounds can burn easily, can
give off harmful vapors, and are
harmful to skin and clothing.  To
avoid injury or death, keep away
from open fire and use in well-
ventilated area.  If adhesive,
solvent, or sealing compound
gets on skin or clothing, wash
immediately with soap and
water.
(34)
Apply International Compound No. 2 to
threads of ten screws (23).