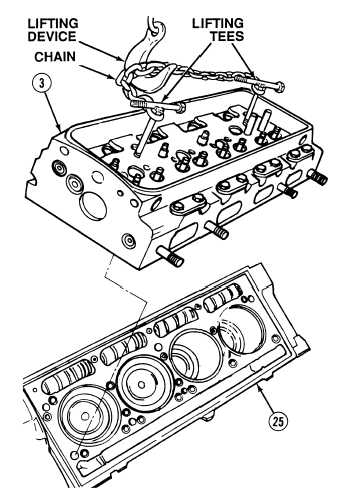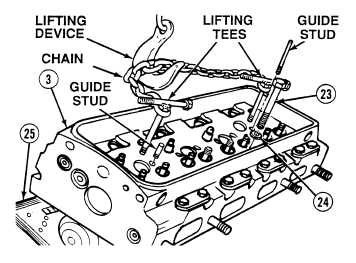 TM 9-2320-364-34-2
3-74     
3-7.  CYLINDER HEAD ASSEMBLY REPLACEMENT (CONT).
Cylinder head weighs 182 lbs
(83 kg).  Attach suitable lifting
device prior to installation to
prevent possible injury to
personnel.
Ensure all gaskets and seals
remain in place during cylinder
head installation.  Gaskets and
seals which are not seated
properly will cause leaks and
blow-by and result in poor
engine performance.  Shim strips
not in place can result in broken
cylinder head bolts.  Failure to
comply may result in damage to
equipment.
(35)
Attach lifting device to lifting chain.
NOTE
Guide studs are to be installed
through cylinder head just
before cylinder head contacts
engine block.
(36)
With the aid of an assistant, lower cylinder
head (3) on engine block (25) and install two
guide studs through cylinder head (3) and
into engine block (25).
(37)
Position eight washers (24) and screws (23)
in cylinder head (3).
(38)
Remove guide studs, lifting tees and chain
from cylinder head (3).
(39)
Position remaining two washers (24) and
screws (23) in cylinder head (3).