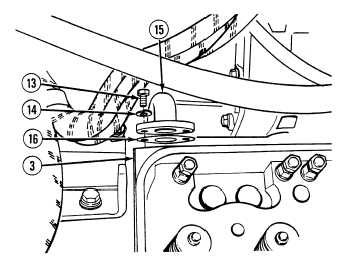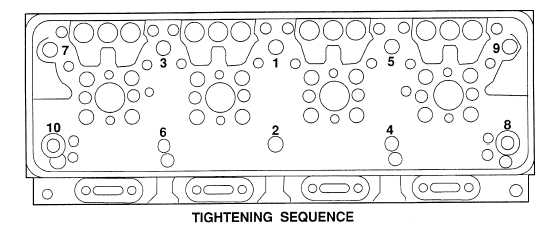 TM 9-2320-364-34-2
3-75
(40)
Tighten ten screws (23) in sequence shown to 15 to 20 lb-ft (20 to 27 N.m).
(41)
Tighten ten screws (23) to 150 lb-ft (204 N.m) in sequence shown.  Hold wrench at this torque for two to
three seconds to allow screws to turn while compression seals yield to their crushed thickness.
(42)
In same sequence, one screw at a time, perform following Steps:
(a)
Back off screw until loose.  Retighten to 100 lb-ft (136 N.m).
(b)
Turn screw an additional 1/3 turn.  Try to turn screw in single arc with one pull of wrench to ensure
even clamp load on cylinder head.
Adhesives, solvents, and sealing
compounds can burn easily, can
give off harmful vapors, and are
harmful to skin and clothing.  To
avoid injury or death, keep away
from open fire and use in well-
ventilated area.  If adhesive,
solvent, or sealing compound
gets on skin or clothing, wash
immediately with soap and water.
(43)
Apply sealing compound to threads of two
screws (13).
(44)
Install gasket (16), two lockwashers (14),
screws (13) and breather tube (15) on
cylinder head (3).  Tighten screw to 60 lb-in
(7 N.m).