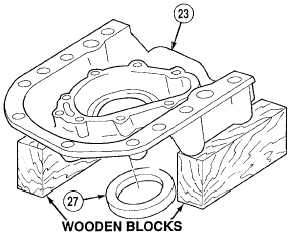 TM 9-2320-364-34-2
3-99
Ensure crankcase cover is fully
supported before removing
screws.  Failure to comply
may result in crankcase cover
falling causing injury to
personnel.
(12)
Remove two screws (24) and
lockwashers (25) from crankcase front
cover (23).  Discard lockwashers.
(13)
Remove crankcase front cover (23) and
gasket (26) from engine (2).  Discard
gasket.
Lifting device must remain in
place and truck must be properly
tagged until after installation of
this task is performed.  Failure
to comply may result in engine
falling causing severe injury or
death to personnel.
(14)
Position crankcase front cover (23) outer
face on wooden blocks and remove oil
seal (27) out of front side of crankcase
front cover.  Discard oil seal.