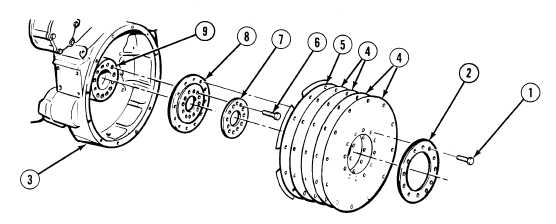 TM 9-2320-364-34-2
3-103
Materials/Parts
Cable Ties (Item 9, Appendix B)
Compound, International No. 2
(Item 16, Appendix B)
Lockscrew (12) (Item 224, Appendix E)
This task covers:
a.  Removal
b.   Installation
c.  Follow-On Maintenance
INITIAL SETUP
Personnel Required
Two
Equipment Condition
Engine/transmission separated, (Para-3-5)
Tools and Special Tools
Tool Kit, General Mechanic's
(Item 240, Appendix F)
Wrench, Torque (0 to 175 lb-ft [0-237 N.m])
(Item 277, Appendix F)
3-13.  FLEX PLATE AND HUB REPLACEMENT.
a.
Removal.
(1)
Remove 12 lockscrews (1) and flywheel plate (2) from flywheel housing (3).  Discard lockscrews.
NOTE
Insert cable ties through flex plates to ensure proper installation.
(2)
Remove four flex coupling inserts (4) and disk assembly (5) from flywheel housing (3).
(3)
Remove 12 screws (6), mounting plate (7) and hub body (8) from crankshaft (9).