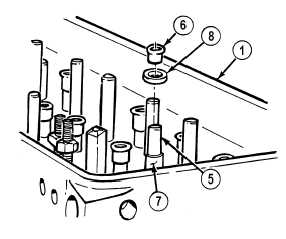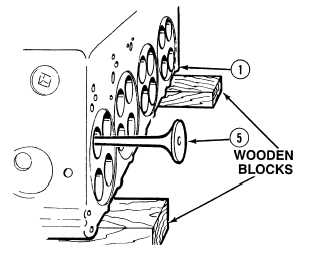 TM 9-2320-364-34-2
3-119
(7)
Remove valve guide seal (6) from valve
guide (7).  Discard seal.
(8)
Turn cylinder head (1) on side and remove
valve (5) from bottom of cylinder head.
Compressed air will not exceed
30 psi (207 kPa).  Use only with
effective chip guarding and
personal protective equipment
(goggles/shield, gloves, etc).
Failure to comply may result in
injury or death to personnel.
NOTE
Valve seat removal may require
use of compressed air.
(9)
Remove valve seat (8) from valve guide (7).
b.
Installation.
NOTE
·
All 32 exhaust valves are
installed the same way.
·
Repeat Steps (2) through (4)
for each valve.
(1)
Set cylinder head (1) on side.
(2)
Lubricate valve (5) with lubricating oil.
(3)
Install valve (5) in cylinder head (1).
(4)
Position tape on valve (5) to keep valve (5)
from falling out of cylinder head (1).