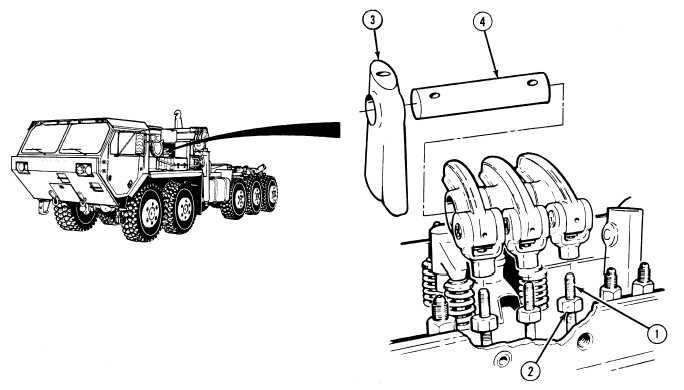 TM 9-2320-364-34-2
3-125
Materials/Parts
Oil, Lubricating (Item 38, Appendix B)
Tags, Identification (Item 72, Appendix B)
This task covers:
a.  Removal
b.   Installation
c.  Follow-On Maintenance
INITIAL SETUP
Equipment Condition
Engine OFF, (TM 9-2320-364-10)
Wheels chocked, (TM 9-2320-364-10)
Engine brake retarders removed, (Para 3-32)
Tools and Special Tools
Tool Kit, General Mechanic's
(Item 240, Appendix F)
3-20.  ROCKER ARM REPLACEMENT.
NOTE
All rocker arms are removed the same way.
(1)
Hold three push rods (1) and loosen nuts (2).
(2)
Remove two brackets (3) from shaft (4).