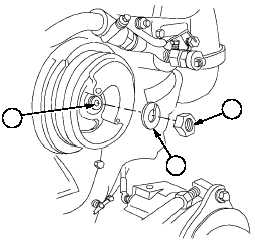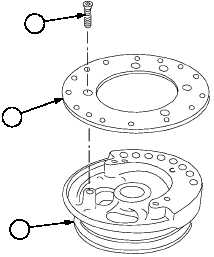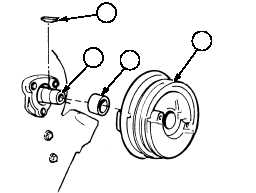 TM 9-2320-364-34-2
3-130     
3-21.  DDEC SPEED SENSOR PULSE WHEEL REPLACEMENT (CONT).
b.
Installation.
Adhesive, solvents, and sealing
compounds can burn easily, can
give off harmful vapors, and are
harmful to skin and clothing.  To
avoid injury or death, keep away
from open fire and use in a
well-ventilated area.  If adhesive,
solvent, or sealing compound
gets on skin or clothing, wash
immediately with soap and water.
NOTE
·
Two alignment pins on pulse
wheel must be installed in
alignment holes on back of
camshaft pulley.
·
DDEC II engines have a 13
tooth pulse wheel; DDEC III
engines have a 36 tooth
pulse wheel.
(1)
Apply sealing compound to threads of four
screws (13).
(2)
Install DDEC speed sensor pulse wheel (14)
on front balance pulley (10) with four
screws (13).  Tighten to 60 to 80 lb-in (7 to
10 N.m).
NOTE
Perform Step (3) if key or spacer
was removed.
(3)
Install spacer (12) and key (11) on end of
left camshaft (9).
(4)
Position front balance pulley (10) on left
camshaft (9).
(5)
Install lockwasher (8) and nut (7) on left
camshaft (9).  Tighten to 300 to 325 lb-ft
(407 to 441 N.m).
7
8
9
10
11
12
13
14
10
9