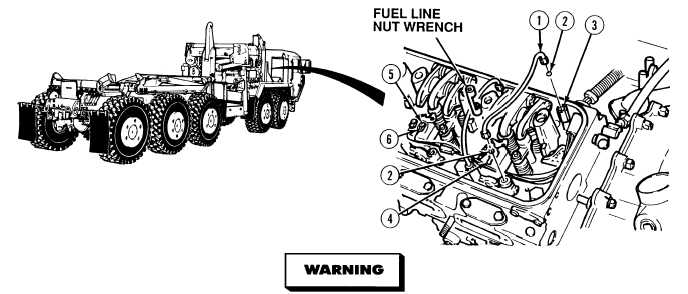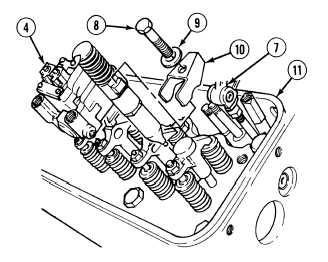 TM 9-2320-364-34-2
4-3
Fuel is very flammable and can explode easily.  To avoid serious injury or death, keep fuel away
from open fire and keep fire extinguisher within easy reach when working with fuel.  Do not
work on fuel system when engine is hot.  Fuel can be ignited by hot engine.
NOTE
·
There are eight fuel injectors.  All fuel injectors are removed the same way.
·
Cap fuel pipe connectors after removal of fuel pipes.
(1)
Using fuel line nut wrench, remove fuel pipe (1) and two preformed packings (2) from fuel supply
fitting (3) and fuel injector (4).  Discard preformed packings.
NOTE
Tag and mark all harness wires upon removal.
(2)
Loosen two screws (5) and remove injector harness wires (6) from fuel injector (4).
·
When removing fuel injectors caution should be taken not to damage fuel injector tips.
·
Do not force rocker arms all the way back with shaft in place.  Only position rocker arm
back far enough to access fuel injector
rods.
(3)
Lift rocker arms (7) and remove screw (8),
washer (9), clamp (10) and fuel injector (4)
from cylinder head (11).