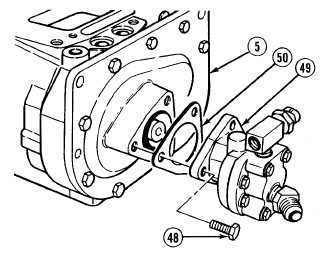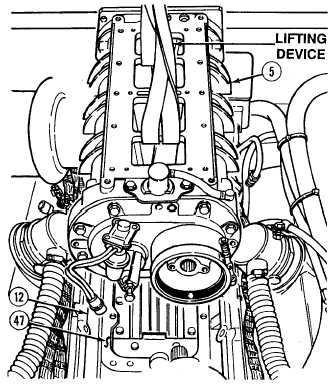 TM 9-2320-364-34-2
4-20     
4-4.  BLOWER ASSEMBLY REPLACEMENT (CONT).
b.
Installation.
Ensure all debris is kept clear of
blower during installation.
Failure to comply may result in
damage to equipment.
(1)
Remove rag from blower (5).
(2)
Install gasket (50) on fuel pump (49).
(3)
Install fuel pump (49) on blower (5) with
three screws (48).
(4)
Remove rags from engine (12).
Adhesives, solvents, and sealing
compounds can burn easily, can
give off harmful vapors, and are
harmful to skin and clothing.  To
avoid injury or death, keep away
from open fire and use in well-
ventilated area.  If adhesive,
solvent, or sealing compound
gets on skin or clothing, wash
immediately with soap and
water.
(5)
Apply adhesive to bottom side of
gasket (47).
(6)
Install gasket (47) on engine (12).
Blower weighs 71 lbs (32 kg).
Attach suitable lifting device
prior to installation to prevent
possible injury to personnel.
(7)
Attach lifting device to blower (5).