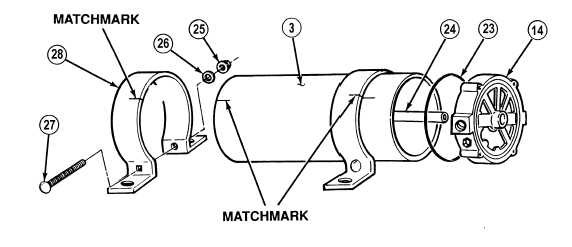 TM 9-2320-364-34-2
4-43
b.
Cleaning/Inspection.
Fuel is very flammable and can explode easily.  To avoid serious injury or death, keep fuel away
from open fire and keep fire extinguisher within easy reach when working with fuel.  Do not
work on fuel system when engine is hot.  Fuel can be ignited by hot engine.
Clean all parts of fuel/water separator with diesel fuel only.  Other cleaning agents may damage
parts.
(1)
Clean all parts with diesel fuel.  Dry with a cleaning cloth.
(2)
Inspect for excessive contamination, cracked, worn, or damaged parts.
(3)
Replace all defective parts.
c.
Assembly.
NOTE
·
Align match marks made prior to removal.
·
Perform Step (1) if clamps were removed.
(1)
Install clamps (28) on housing (3) with two carriage bolts (27), washers (26) and locknuts (25).
(2)
Install return tube (24) in base (14).
(3)
Lubricate gasket (23) with diesel fuel.
(4)
Install gasket (23) in base (14).