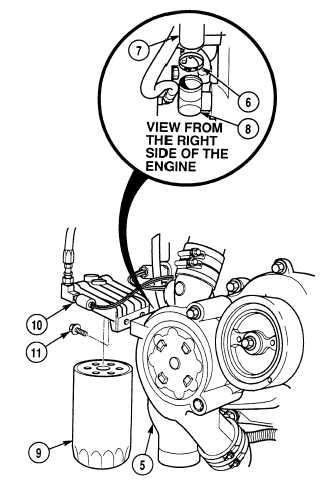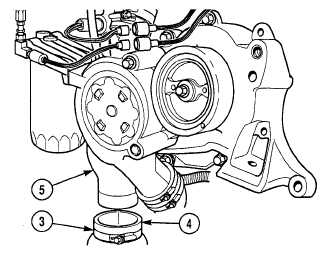 TM 9-2320-364-34-2
5-20     
5-6.  WATER PUMP ASSEMBLY REPLACEMENT (CONT).
(2)
Position drain pan under water pump (5).
Cap or plug all hoses upon
removal.  Loose parts or dirt may
fall in open hose and damage to
parts may occur.
(3)
Loosen clamp (3) and remove hump
hose (4) from water pump (5).
(4)
Loosen clamp (6) and remove hose (7) from
fitting (8).
Fuel is very flammable and can
explode easily.  To avoid serious
injury or death, keep fuel away
from open fire and keep fire
extinguisher within easy reach
when working with fuel.  Do not
work on fuel system when engine
is hot.  Fuel can be ignited by hot
engine.
(5)
Remove and discard fuel filter (9) from fuel
filter housing (10).
(6)
Remove two screws (11) and fuel filter
housing (10) from water pump (5).