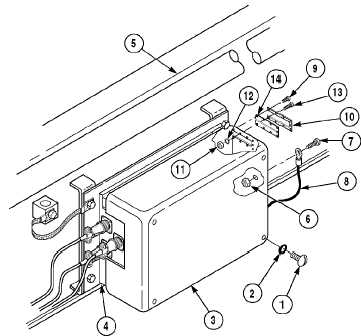 TM 9-2320-364-34-2
6-61
b.
Installation.
(1)
Position wire gate (14) and wire gate clamp (10) on cover (3), and install seven screws (13), star washers
(12), and nuts (11).
(2)
Install two screws (9), on wire gate clamp (10).
Adhesives, solvents, and sealing compounds can burn easily, can give off harmful vapors,
and are harmful to skin and clothing.  To avoid injury or death, keep away from open fire
and use in well-ventilated area.  If adhesive, solvent, or sealing compound gets on skin or
clothing, wash immediately with soap and water.
NOTE
Apply adhesive to the upper and side edges of cover. Do not apply adhesive on edge of
cover.
(3)
Apply a bead of adhesive to edges of cover (3).
(4)
Position cover (3) on boom (5).
(5)
Install ground wire (8) on cover (3) using screw (7) and locknut (6).
(6)
Install cover (3) on crane overload control (4), using four screws (1), and preformed packings (2).
c.
Follow-on  Maintenance:
·
Remove wheel chocks (TM 9-2320-364-10).
END OF TASK