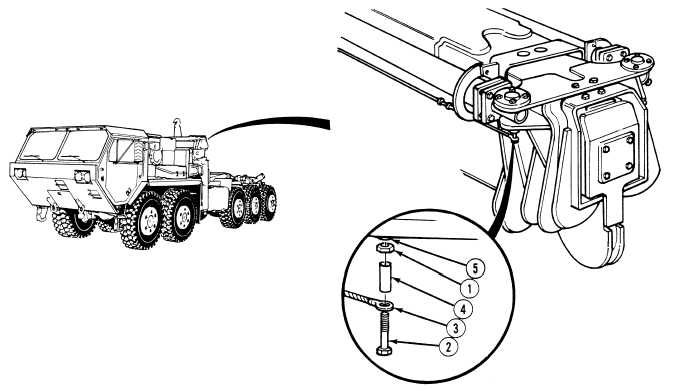 TM 9-2320-364-34-2
6-62     
Materials/Parts
Tags, Identification (Item 72, Appendix B)
Lockwasher (Item 272, Appendix E)
Nut, Spring Clip (4) (Item 316, Appendix E)
This task covers:
a.  Removal
b.   Installation
c.  Follow-On Maintenance
INITIAL SETUP
Equipment Condition
Engine OFF, (TM 9-2320-364-10)
Wheels chocked, (TM 9-2320-364-10)
Tools and Special Tools
Tool Kit, General Mechanic's
(Item 240, Appendix F)
Goggles, Industrial (Item 83, Appendix F)
6-8.  OVERLOAD SHUTDOWN SYSTEM REPLACEMENT.
Allow cable to slowly retract.  Cable is under tension and can snap back rapidly.  Ensure that
proper eye protection is used.  Failure to comply may result in serious injury to personnel.
(1)
Loosen nut (1) and remove screw (2), cable (3), spacer (4) and nut from mast pin (5).