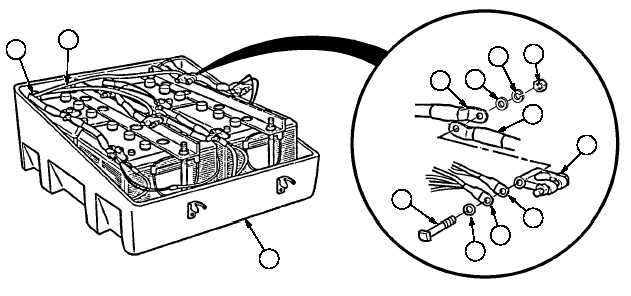 TM 9-2320-364-34-2
6-136     
6-18.  DDEC BATTERY POWER WIRE HARNESS REPLACEMENT (200 AMP) (CONT).
b.
Installation.
Remove all jewelry such as rings, dog tags, bracelets, etc.  If jewelry or tools contact positive
electrical circuits, a direct short may result.  Damage to equipment, injury or death to personnel
may occur.
NOTE
Install cable ties as required.
(1)
Position DDEC battery power wire harness (18) through hole (54) in battery box (55).
(2)
Position screw (51), washer (52), cable 1137 (50), cable 1138 (49), wire 208/209 (48), wire
150/150/151/953 (47), washer (46), lockwasher (45) and nut (44) on negative terminal (53).
(3)
Tighten nut (44) to 12 to 16 lb-ft (16-22 N

×

m).
Corrosion compound contains alkali.  Do not get in eyes; wear goggles/safety glasses when
using.  Avoid contact with skin.  In case of contact, immediately wash area with soap and
water.  If eyes are contacted, flush eyes with large amounts of water at least 15 minutes and
get immediate medical attention.
(4)
Apply corrosion preventative compound to terminal (53).
48
55
54
53
50
46
47
49
45
44
18
51
52