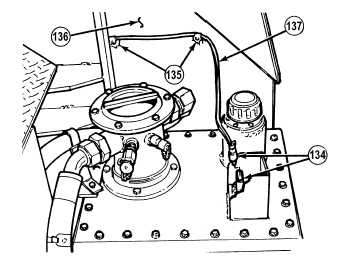 TM 9-2320-364-34-2
6-163
NOTE
Perform Step (28) only if chemical alarm was disconnected during removal.
(28)
Connect chemical alarm MC103 connector (138).
(29)
Connect low hydraulic oil MC96 connector (134).
Adhesives, solvents, and sealing compounds can burn easily, can give off harmful vapors, and
are harmful to skin and clothing.  To avoid injury or death, keep away from open fire and use
in well-ventilated area.  If adhesive, solvent, or sealing compound gets on skin or clothing,
wash immediately with soap and water.
(30)
Apply adhesive to 12 clips (135).
(31)
Install 12 clips (135) on cab wiring harness (137) and to rear of cab (136).