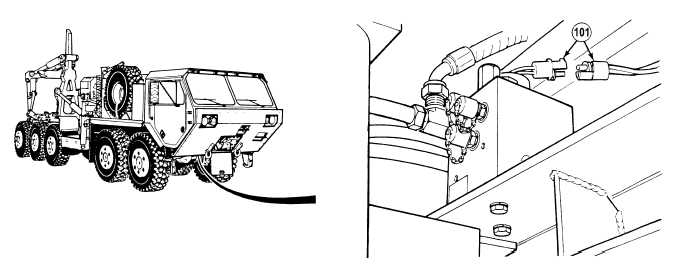 TM 9-2320-364-34-2
6-257
NOTE
Disconnect connector by prying up on tabs and gently pulling apart connector.
(42)
Disconnect MC113 connector (101).
NOTE
·
There are two types of 7-pin electrical connectors.  Model B replaced Model A.
·
Model A has a rubber boot covering the back.
·
Model B uses rubber push on connectors on the back.
·
Perform Step (36) for Model A connector.
(43)
Remove cable tie (102) and slide boot (103) back on wires (104) of harness (15).
(44)
Remove two locknuts (105) and screws (106) from bracket (107).  Discard locknuts.
(45)
Pull MC27 connector (108) toward front of truck (109) and guide chassis wire harness (15) down through
slot (110) on bracket (88).