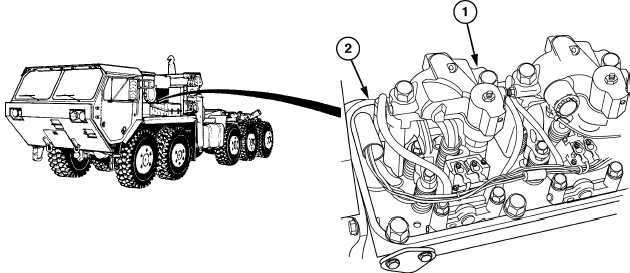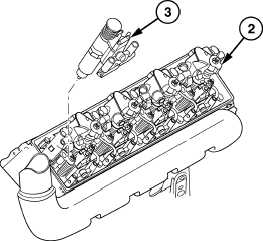 TM 9-2320-364-34-2
3-11
a.
Compression Check
NOTE
Engine temperature should remain between 180-200

F (93-97

C) during engine testing
procedure.
(1)
Start engine and run until normal operating temperature is reached (TM 9-2320-364-10).
(2)
Shut off engine.
Exhaust manifolds and engine parts are hot.  Use care to prevent personal injury.
NOTE
Compression test for all cylinders are performed the same way.  Do one cylinder at a time.
Number 1 cylinder is shown.
(3)
Remove engine brake (1) from cylinder head (2).
(Para 3-32).
(4)
Remove fuel injector (3) from cylinder head (2).
(Para 4-2).