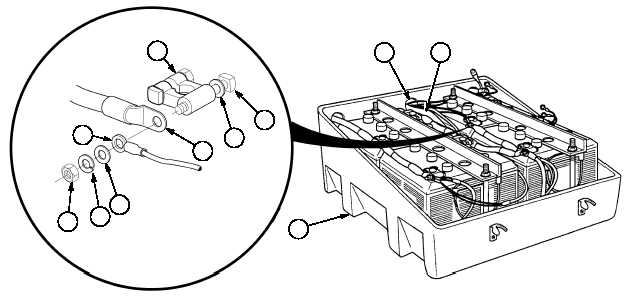 TM 9-2320-364-34-2
6-442     
6-41.  BATTERY DISCONNECT WIRE HARNESS REPLACEMENT
(200 AMP WITH BATTERY DISCONNECT SWITCH) (CONT).
Remove all jewelry such as rings, dog tags, bracelets, etc.  If jewelry or tools contact positive
electrical circuits, a direct short may result.  Damage to equipment, injury or death to personnel
may occur.
(9)
Pull battery disconnect wire harness (18) through hole (19) in battery box (20) and position in truck.
(10)
Position screw (16), washer (15), cable 1137 (14), cable 1566 (13), washer (12), lockwasher (11) and nut
(10) on positive terminal (17).
While applying torque to nut, hold screw with wrench or damage to battery may occur.
(11)
Tighten nut (10) to 12 to 16 lb-ft (16-22 N.m).
16
15
17
14
13
12
11
10
19
18
20