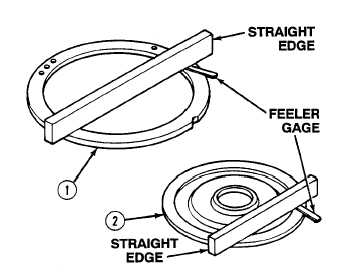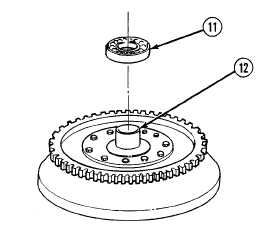 TM 9-2320-364-34-2
7-23
(7)
Place straight edge on backplate (1) and
insert feeler gage.  Measure gap between
straight edge and backplate.  If feeler gage
larger than 0.010 in. (0.254 mm) will fit
under straight edge, replace backplate.
NOTE
If assembly is not going to be
completed at once, wrap or
cover the exposed bearings with
clean paper or clean cloth to
keep out dust.
(8)
Place straight edge on piston (2) and insert
feeler gage.  Measure gap between straight
edge and piston.  If feeler gage larger than
0.010 in. (.254 mm) will fit under straight
edge, replace piston.
d.
Assembly.
(1)
Coat torque converter turbine hub (12) and
bearing (11) with hydraulic oil.
(2)
Install bearing (11) on torque converter
turbine hub (12).